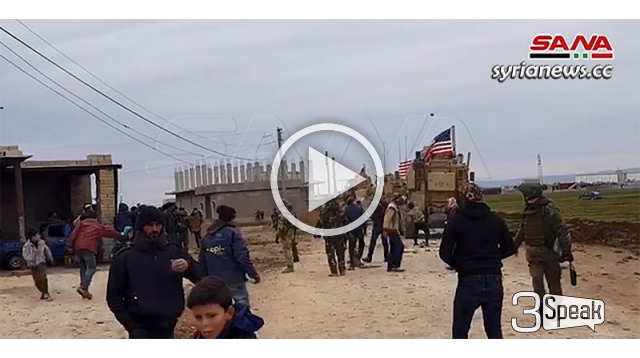 ---
Angry locals in a remote village east of Qamishli northeast of Syria stoned a Trump forces patrol, damaged 4 of their vehicles after the arrogant invaders insisted on passing through their village.
Trump forces fired live rounds at the civilians killing a 22 years old and injuring others which made the locals much more angrier and brought their AK47s they used to defend themselves from ISIS and fired back at the Trumpies.
Unconfirmed report from the village said at least one Trump soldier is killed, but we will never know especially after the Pentagon replaced the word 'Killed' with 'Brain Injured' after Iran bombed their base in west of Iraq. So most likely we will hear about a 'brain-injured' Trumpie or more but we need to wait for that.
More in this report: Russia Rescues Trump Illegals from Angry Locals
---
Your objective comments are always welcomed.
---
Follow @ArabiSouri:
Twitter: Arabi Souri
Syria News: www.syrianews.cc
---
Donations are highly appreciated, just click on the Donate button via PayPal or Credit Card: Donate
You can also donate with Steem or SBD or even delegate some much needed SP here :)
#Syria #Iran #Russia #InformationWar #Wahhabism #Zionism #alQaeda #FSA #Nusra #ISIS #Terrorism #Saudi #Qatar #Israel #Net #Neutrality #Mainstream #MSM #Control #WarOfTerror #kurdistan #sdf #kurds #RegimeChange

---
▶️ 3Speak