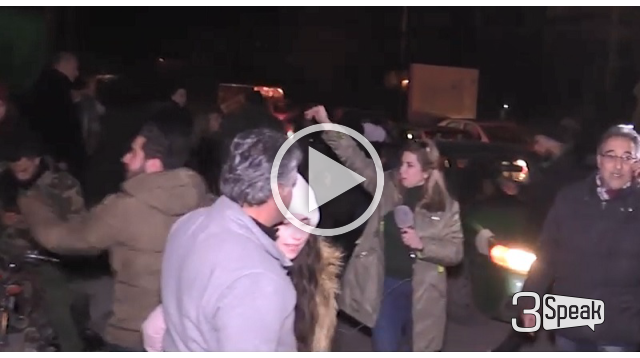 ---
Just two weeks ago over 35,000 heavily armed anti-Islamic suicide bombers of assorted al-Qaeda terrorist groups attacked the western suburbs of Aleppo, they sent in first 4 explosive-armored vehicles driven by suicide bombers.
The Syrian Arab Army not only repelled that massive attack, keep in mind the terrorists receive full support from a number of NATO armies and intelligence agencies, the SAA went after the defeated terrorists and cleaned dozens of towns and villages securing the entire city of Aleppo as I reported yesterday: BREAKING: SAA SECURES ALEPPO CITY COMPLETELY
Even the residents didn't believe the news that the SAA managed so fast to defeat the terrorists and end a 7 years of living under all sorts of horrific conditions including the indiscriminate bombing of their residential neighborhoods by the terrorists, more than 150 civilians killed by these bombings just in the month leading to the start of the SAA military operation.
You can check our previous reports on Aleppo and the horrors lived by its people in this tag: https://www.syrianews.cc/?s=aleppo
Taking to the streets the residents of Aleppo expressed their gratitude to their brothers and sons in the Syrian Arab Army and all the honorable countries in the world, condemning cursing and swearing at the madman of Turkey Erdogan and vowing to support their troops to clean all of Syria from his terrorists.
This is just a tiny side, there are plenty of videos shared by different news agencies and by local residents.
---
Your objective comments are always welcomed.
---
Follow @ArabiSouri:
Twitter: Arabi Souri
Syria News: www.syrianews.cc
---
Donations are highly appreciated, just click on the Donate button via PayPal or Credit Card: Donate
You can also donate with Steem or SBD or even delegate some much needed SP here :)
#Syria #Iran #Russia #InformationWar #Wahhabism #Zionism #alQaeda #FSA #Nusra #ISIS #Terrorism #Saudi #Qatar #Israel #Net #Neutrality #Mainstream #MSM #Control #WarOfTerror #kurdistan #sdf #kurds #RegimeChange

---
▶️ 3Speak