Various hate groups are actively working to start a civil war in America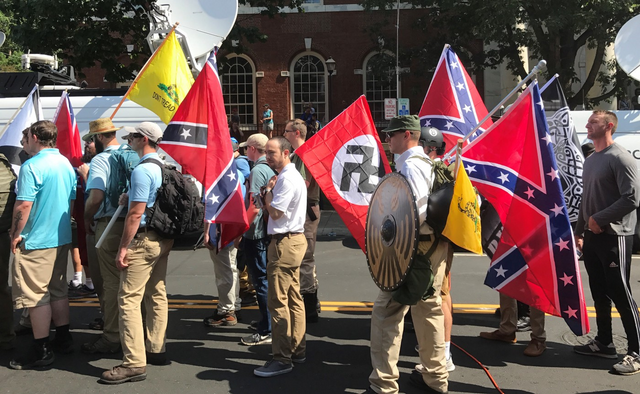 Much has been said about the seemingly non-stop imagery of white people vandalizing property and starting fires during the recent protests — which Black people and peaceful protesters have been largely blamed for. Some were anarchists and most were members of outside groups. And while those white people might be responsible for property damage, there's an entire delegation of other white folks that are comingling with protesters and doing some real harm.
This contingent, we'll call them, is hell-bent on starting a civil war.
Evidence has been mounting around the nation showing that white supremacists and various other far-right groups have been actively working to leverage the protests against police brutality to cause property damage and inflict violence. The goal is to strike fear in Black communities and heighten the political and racial tensions to help bring about a civil war that targets racial and ethnic minorities. In other words, a race war using chaos and discord as a catalyst.
By now, you've likely heard of "Boogaloo Bois" after the movement recently made news for the first time. I call it a movement because it's made up of individuals, various members of different hate groups, and white gangs who follow this specific ideology. The fragmented nature of the movement makes it harder to track as they are not associated with any individual group.
Their tactics vary greatly as well. Some have joined the protests disguised as allies with the intent of firing into crowds, killing police officers, and bombing buildings. On June 1, POLITICO reported that on May 27 the FBI warned of "a white supremacist extremist Telegram channel was inciting followers to engage in violence and start the 'boogaloo '- a term used by some violent extremists to refer to the start of a second Civil War — by shooting in a crowd." One message encouraged potential shooters to "frame the crowd around you" for the violence.
These are the same people who celebrated the deaths of George Floyd and Ahmaud Arbery; who believe their murders were the beginning of the race war they fantasize about. In an article on May 29, I too warned of the coming actions of radicalized extremists after they were documented in online forums encouraging additional violence and to act alone when doing so. I also warned of the radicalized groups who were a large part of the anti-lockdown protests.
Many of us have for years warned the American public that these events would occur. It's only a matter of time before all that hateful rhetoric Americans dismiss becomes a precursor to what we're seeing today: extremists murdering people and executing police in ambush-style attacks.
White America's complacency continues to destroy lives.