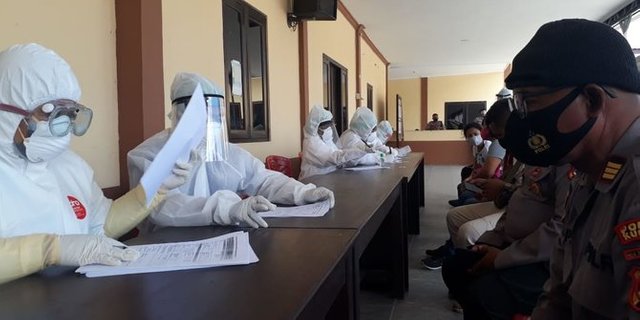 Kupang Police Chief is Positive for Covid-19. © 2020 Merdeka.com/Ananias Petrus
---
Kapolres Kupang, East Nusa Tenggara, AKBP Aldinan RJH Manurung was confirmed positive for covid-19, based on the results of a swab examination at the Bio Molecular Laboratory of WZ Yohanes Kupang Hospital, Tuesday (15/9) yesterday.
AKBP Aldinan was exposed to covid-19 from someone who was a traveler from Jakarta . Even so, public services at the Kupang Police continued as usual.
Public Relations Officer (Paur Humas) of the Kupang Police, Aipda Randy Hidayat to merdeka.com explained that public services at the Police Headquarters are still open to the public by implementing strict health protocols.
"There is no closure, because until now the police service is still running as usual," he explained.
According to Randy, all personnel at the Police are being examined or undergoing rapid tests. "There is currently an examination, all the personnel in contact with him," he said.
To note, in the last week, positive cases of Covid-19 in East Nusa Tenggara have increased. As of Wednesday (15/9) yesterday, positive confirmed cases of Covid-19 totaled 289 cases / person. Of that number, 174 people were declared cured, 110 were in treatment, either in isolation in hospitals or in self-quarantine. Meanwhile, 5 patients were declared dead.
Based on the release of data from the East Nusa Tenggara Pusdalops, there were an additional 13 new cases of Covid-19. Spread in five districts / cities. Among them were West Manggarai Regency with 7 positive cases (local transmission cluster), Ende Regency (3 cases), where 2 cases were travelers from Denpasar, and 1 case was a local transmission cluster. Furthermore, Kupang District (1 Case) is the result of close contact with the traveler from Jakarta, as well as Kupang City and South West Sumba Regency (SBD) 1 each, which is a traveler from Denpasar.
---